SPECIAL FEATURES
Tia Carrere
Margaret Cho
Church of Rhythm
Hiroshima
James Hong
Bruce Lee
Jet Li
Keye Luke
Martial Law
Minoru Miki
Lea Salonga
George Takei
Tamilyn Tomita
Ming-Na Wen
Anna May Wong
Russell Wong
HOME

SECTIONS
Actors
Actresses
Astronauts
Athletics
Authors
Business People
Cartoonists
Community Leaders
Dancers
Directors
Fashion Designers
Film Festivals
Military
Musicians
Newscasters
Politicians
Television Shows


PHILIP AHN - A SHINING STAR
A GREAT ACTOR AND PIONEER

Written by Philip (Flip) Ahn Cuddy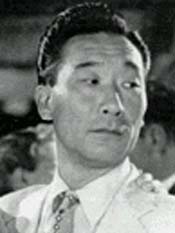 Philip Ahn was in many way as unique as his father. Like Dosan, he was a universal man. He was an artist, a diplomat, a businessman, a patriot, and a leader of his community. These days his uniqueness is unnoticed and his lifetime accomplishments have been ignored.

He has become

somewhat of a forgotten man. Young Asians in the film and TV industry talk entertainment history like they are the pioneers. Present-day Korean American community activists act as though they are the first generation to encounter real social victimization. Many Koreans don't realize that there are Americans of Korean heritage who were as patriotic as any Korean born and truly helped put Korea in a position to participate in the modern world on a global basis.

If you ask

who Philip Ahn is, not many people know. Usually a non-Korean would most likely know more. Philip Ahn should be remembered well by all people because he was a person who made history and influenced many people's lives.

Pil Lip Ahn was born March 29, 1905,

in Highland Park, California. Philip Ahn, his Westernized name, was the first American citizen born of Korean parents in the United States. His parents--the great Korean patriot Dosan Ahn Chang Ho and his wife, Helen Lee, the second Korean woman to enter America--came to the United States in 1902. They were the first married couple to leave Korea and come to America. Philip was their first son. The Ahn family were pioneers in more ways than one.

The first school he attended

was the Seventh Day Adventist school in Riverside. Philip's family moved to Los Angeles, where he finished grammar school at Fremont Avenue. Philip went to Central Junior High, graduated in June 1920, and was valedictorian. He went to Polytechnic High School. Although he studied electrical engineering, he took an interest in drama and speech classes and participated in as many of the school plays as he could with the Mask and Sandal Drama Club. These days Philip began to develop his great voice.

While he was still in high school,

he visited Douglas Fairbanks' Thief of Bagdad set and was offered a screen test by Mr. Fairbanks. Ahn did well and was offered a job. Philip said he would never forget that day. "Still wearing my makeup, I proudly came home to tell my mother the good news." His mother upheld the Korean traditional low opinion of acting and said his studies were more important. His father was away in Asia. His mother refused to let him become an actor at this time, saying "No son of mine is going to get mixed up with those awful people." Ahn added he couldn't leave the house for the next three days. Philip graduated from high school in 1923.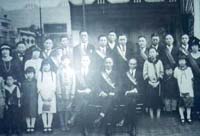 After high school, Philip went to work in the Hung Sa Dan rice fields in Colusa. The Hung Sa Dan, or Young Korean Academy, was a group founded in San Francisco in 1913 to train young people to become leaders of Korea after the Japanese colonial rule was ended. Because of his American citizenship, they used Philip as the legal entity to start agricultural enterprises in northern California. It was rough work in the fields for Philip. He also drove trucks from the fields to Los Angeles to deliver produce. And it turned out to be an economic disaster as the fields failed to make money due to unusual heavy rains. It took a long time for Philip to clear his name and establish good credit.

These were difficult times

for the Ahn family. Since their father was gone, it was up to Philip to be the man of the house. He had to help his mother take care of his brother Philson and two sisters, Susan and Soorah. His youngest brother, Ralph, was born in 1926. The Depression and the immigrant background of America's first Korean American family brought many added responsibilities and hardships for Philip. He found work around Los Angeles as an elevator boy at the now historic apartments like Brysons and the Gaylord building to help the family. His father was gone working for Korea's independence most of the time, and Philip never really had the chance to live his own life.
Because of the traditional Korean's

poor opinion of actors his first ideas of having a job making motion pictures were confusing. During a conversation in 1925 about his mother's objection to his acting career, he sought the advice of his father, who had just returned from China, where he was active in Korea's fight against Japanese imperialism. His father told him if acting was something he really wanted to do, then he must make it his goal to be one of the best.

Dosan, his father's pen name,

which means island-mountain, was a man of great vision who was trying to bring social reforms and Western thought to Korea in hope of making the people more worldly. Dosan considered acting as really a form of art that was beneficial to society in some ways. I think his father recognized his son's sincerity and honest desire to work at becoming an accomplished actor and gave Philip his blessings.




To continue the article, click HERE


Part 1: His early years and parents Part 2: Education background and beginning years in the film industry Part 3: Details on his movie career, restaurant and community involvement Part 4: His commitment to the U.S. troops, his last roles and his concern for APA actors Part 5: Legacy of his achievements




Any questions regarding the content, contact Asian American Artistry
site design by Asian American Artistry
Copyright © 1996-2002 - Asian American Artistry - All Rights Reserved.
Special thanks to Vision Software